The NOOK family of ebook reading devices from Barnes and Noble: NOOK Simple Touch | NOOK Color | NOOK Tablet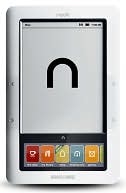 Nook eReader with several newer versions (Nook Simple Touch, Nook Color, Nook Tablet & more). Over 1 million eBooks.
The older
nook
eReader is about the same size and weight as a paperback book. Height: 7.7 inches, Width: 4.9 inches, Depth: 0.5 inches, Weight: 12.1 ounces (343 grams). Download books in seconds. Free wireless from Barnes & Noble via AT&T, the nation's fastest 3G network. *Wi-Fi ( 802.11 b/g). Free Wi-Fi in all Barnes & Noble stores.
Supported Formats
: Load these popular formats for eBooks, graphics and audio from your computer or microSD card.
From Barnes & Noble
: Fictionwise & eReader, EPUB, PDB, PDF
Other Sources
: EPUB (Non or Adobe DRM), PDB (Non DRM), PDF
Graphics
: JPG, GIF, PNG, BMP
Audio
: MP3
---
The CYBOOK eBook Readers family: Cybook Odtssey | Cybook Orizon | Cybook Opus | Cybook Gen 3
**
Read Product Reviews (I own a Cybook) in my BLOG
( A new model is on the way: It was described as having the 'size of a paperback, the thickness of a magazine and the weight of a mobile phone' and will 'give you the experience of reading from paper' ... www.bookeen.com ). The only Multi-format eBook Reading Device: Supports Mobipocket(PRC), HTML, TXT, RTF, PDB format. Support for .pdf is still under development. This is the only dedicated ebook device currently on sale at the United States - and is still being manufactured.
The Cybook has been designed to provide the best e-reading experience. Thanks to its bright and contrasted page size display and its sleek design, the Cybook is the ideal companion to discover the pleasure of digital reading. Opened and multi-format. The Cybook is the world's first true open multi-format e-book reader. No more printing, with the Cybook you can read all the digital documents you want. Boo Reader, Boo Reader Vision, Pocket Word, Pocket Inbox, Internet Explorer, PTab Spreadsheet, Audio Player
---
The KOBO family of eBook eReaders: KOBO Vox | KOBO Touch | KOBO Wi Fi
KOBO Vox
features Vivid 7" multimedia screen, with brilliant color books for all ages, new social reading experience, web, email and over 500,000 apps on Google Play
KOBO Touch
features 6" glare-free E Ink screen, natural touch navigation, and earn awards and share your Reading Life to Facebook Timeline
KOBO Wi Fi
features 6" glare-free E Ink screen, adjustable fonts and views, long lasting battery and includes 100 free classics
---
The LIBRE family of eBook Readers from Aluratek: Libre Pro eBook Reader | LIBRE Air eBook Reader WiFi | LIBRE Touch eBook Reader with WiFi
Libre Pro eBook Reader
: Supports PDF (Adobe Digital Edition DRM/non-DRM), TXT, FB2, EPUB (Adobe Digital Edition DRM/non-DRM), MOBI (non-DRM only), PRC (non-DRM only)and RTF electronic book format / Supports BMP, JPG, GIF, animated GIF picture format / Includes 100 free eBooks / Content search for easy navigation between books and pages / Bookmark and auto page turn function / Adjustable font type and size / Screen rotation support (portrait and landscape mode) / Built-in MP3 player with background playback support / SD card slot - up to 32GB / Internal lithium-ion polymer battery (24 hrs continuous use / 2 weeks standby time / Battery level indicator and low level warning / 1 Year Warranty
LIBRE Air eBook Reader WiFi
: Read about its
features
.
LIBRE Touch eBook Reader with WiFi
: Read about its
features
.
Dedicated eBook Reading Devices - Past
My passion for ebook devices started way back in 2002; witnessing the transformation of technology and design while the cost of ebook devices become more affordable. Below are few models of how ebook devices used to look like in the past. They are bulkier and heavier.
Pepper Pad 3
It's also an eBook! (mouse over image to preview)
Read about the exciting things that Pepper Pad 3 could do. It is feature-rich!
Product Features:
* Surf, shop, do research, plan a vacation, check the weather and more
* Seven inch color display with touch screen for beautiful photos, videos and Web pages
* Bluetooth 2.0 device support for use with a full-size keyboard and/or mouse
* 20 GB disk drive, that's hundreds of photos and videos you can store
* Rechargeable lithium batteries plus smart power management
---
Franklin eBookMan
3 models available. This eBook device has some PDA functions, and doesn't cost as much as the other eBooks. You can listen to a song, schedule meeting, take note and listen to a book; several functions in the palm of your hand. Several models available.
Cost: USD$99.95 to $175.95
Weight: 6.5 oz
Size: 5.7" x 3.39" x 0.69"
---
Easyread (Personal Digital Reader)
The Easyread Personal Digital Reader uses the Culturecom 1610 33MHz CPU. This innovative 1610 33MHz CPU was invented and developed by the father of Chinese computer, Mr Chu Bong Foo. The CPU, O/S, RAM and relevant software is to be found on one single chip. The CPU is capable of displaying approximately 32,000 traditional Chinese characters.
The PDR also supports insertion of 8MB EBK cards via expansion slot. A piece of 8MB EBK card can store approximately 3.8 million Chinese characters (equivalent to 20 paperback novels).Easyread uses SSCT LCD which provides a non-flashy and high resolution display.
The PDR operates on two AA batteries and approximately 18,000 pages can be read (each page contains about 400 characters). Easyread package includes a EBK converter which would convert RTF, DOC, HTML and TXT etc. files directly to the PDR supported EBK format. (Probably obsolete now.)
Cost: about USD180
Weight: 350 grams
Size: (18.8 x 14.8 x 2.1)mm
Memory: 8 MB Built-in Flash Memory
---
Hanlin eReader V8
Screen:600*800 6inches
OS:Wolf OS
Format Support:WOLF,HTML,MP3,TXT.
Communication:N/A
Touch Panel:Only slave display
Expected Release Date:available
Retail Price:$299
Learn more about Hanlin eReader V8:
Product details
---
Hanlin eReader V2
Screen:600*800 6inches
OS:Wolf Linux
Format Support:PDF,DOC,WOLF,HTML,JPG,TXT,CHM,RAR,ZIP, Images ETC
Communication:N/A
Touch Panel:Only slave display
Expected Release Date:Only cooperators
Retail Price:$349
Learn more about Hanlin eReader V2:
Product details
---
Kolin eBook Reader
The Kolin eBook Reader supports DOC, HTML, TXT, PDF, XLS, PPT, BMP, JPG, GIF, MP3 formats.
---
Hiebook
Hiebook is Korean made. This eBook device comes with these features: stores documents, addresses and schedules, MP3 player, you can draw pictures, take notes, record and play back audio messages, has handwriting recognition ability, play games. At present, the eBook titles for this eBook reading device target IT professionals.
Cost was USD200 - 300 (This device is now obsolete.)
Weight: 8.8 oz
Size: 4.5" x 5.75" x 0.67"
---
RCA REB 1100
RCA REB 1100 has a built-in telephone modem for eBook shopping without a PC. The displaycan be rotated - good for left-handed people. While reading a book, you can highlight a word and look it up in a dictionary.
Cost: (This device is no longer on sale.)
Weight:18 oz
Size: that of a paperback
Battery: 20 - 40 hours
8 MB flash holds about 8 books
(Trademarks and Registered trademarks are all properties of their respective owners.)